Coronavirus Pandemic Hits UK Corporates' Ability to Face WTO Brexit
As the end of the Brexit transition period looms nearer, it is increasingly likely that a free trade agreement (FTA) will not be agreed and that the UK will move to trading with the EU on World Trade Organization terms (a WTO Brexit). Fitch Ratings says this would cause significant near-term disruption for companies operating in the UK and would harm longer-term competitiveness through the introduction of tariff and non-tariff barriers.
This would slow the UK non-financial corporate sector's recovery from the coronavirus downturn and add to the pressure on ratings, particularly for companies with ratings on Negative Outlook. However, the coronavirus recovery path will remain the main rating driver for most corporates.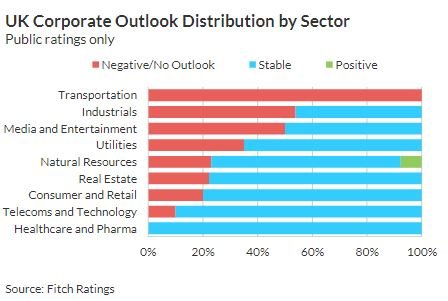 Manufacturers Remain Most Exposed
Major exporters and companies with supply chains that are reliant on imports from the EU, particularly as part of just-in-time manufacturing, remain the most exposed to a WTO Brexit. Some of these industries, such as autos and aerospace, have already been heavily affected by the coronavirus pandemic.
Large manufacturers are likely to keep a close eye on supplier credit quality. Rising costs could leave smaller suppliers in a precarious position and could prompt manufacturers to provide working capital or other support. However, the impact of the coronavirus could leave some manufacturers less willing or able to provide support than would otherwise have been the case.
Preparations Disrupted

As well as weakening companies financially, the pandemic has also made it harder for them to prepare for the end of the transition period as resources have been diverted and management focused on shorter-term risks. Even where that is not the case, uncertainty over the final outcome of negotiations has limited the steps that smaller companies in particular can take to fully prepare. These companies may have become less willing or able to make investments that could prove unnecessary. This is likely to remain the case until there is clarity on the future relationship, or until they see a WTO Brexit as inevitable.
WTO Brexit Risk Rising

Time is rapidly running out for the UK and the EU to reach an FTA with little progress in negotiations so far. Fitch's economic forecast now assumes that UK-EU trade will move to WTO terms in January 2021. This does not preclude the possibility of progress towards an FTA later on, but it is highly unlikely that the transition period will be extended. This would put further pressure on many corporate sectors. Performance of manufacturers or suppliers that are part of complex just-in-time supply chains, such as in the auto sector, would be negatively affected by even short border delays due to the risk that production lines would have to shut down while waiting for components. Potentially weaker sterling and lower consumer confidence would be a risk for consumer-facing sectors.

Exporters to the EU will face new tariffs and non-tariff barriers that will make their products less competitive, especially in high-tariff sectors, such as food. Many exposed sectors have already been severely hit by the impact of the coronavirus and a WTO Brexit would create a significant drag on the UK's economic recovery from the sharp downturn experienced in 2020. Fitch's Global Economic Outlook indicates a cumulative impact on our GDP forecast for 2021 and 2022 of just over 2pp compared to a scenario where an FTA is reached.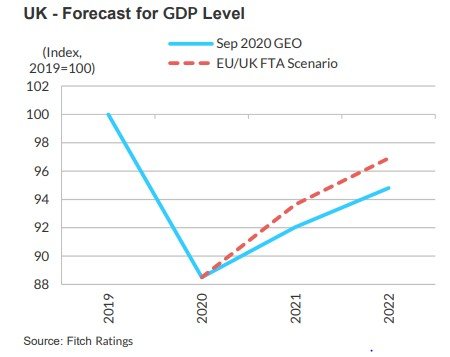 We continue to believe that large, publicly rated companies are the best prepared for a WTO Brexit and have the diversification and flexibility to mitigate the risks. On its own, this scenario is therefore not a significant threat to their ratings. However, the coronavirus pandemic, associated global lockdowns and resulting rapid economic downturn have resulted in many downgrades and have reduced rating headroom for most issuers. This leaves corporate ratings more exposed to WTO Brexit risks than they were before the pandemic. Across EMEA, public rating downgrades in 2Q20 outpaced the previous peak in early 2009 following the financial crisis.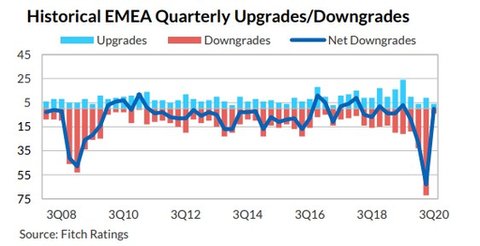 Coronavirus Distracts from Brexit Preparations

While larger companies took steps last year to prepare for a no-deal Brexit, smaller companies were largely unprepared and we do not think there has been any significant improvement in the situation. In particular, smaller companies that do business with the EU appear largely unprepared for customs changes. The UK government plans to phase in changes for imports from the EU over six months, but for the crucial cross-Channel route France is likely to immediately impose full checks in a no-deal scenario. The coronavirus has clearly played a major role in limiting corporate preparations for a WTO Brexit. It had taken up the vast majority of management time, while simultaneously weakening the financial resources available. However, uncertainty about the future relationship with the EU is likely to have been just as big a factor. Without a clear indication of the likely outcome, smaller companies in particular have been unwilling to make investments that could prove unnecessary. This is likely to remain the case until there is clarity on the future relationship, or until they see a WTO Brexit as inevitable.